The Pastor – online event with Hanne Ørstavik & Martin Aitken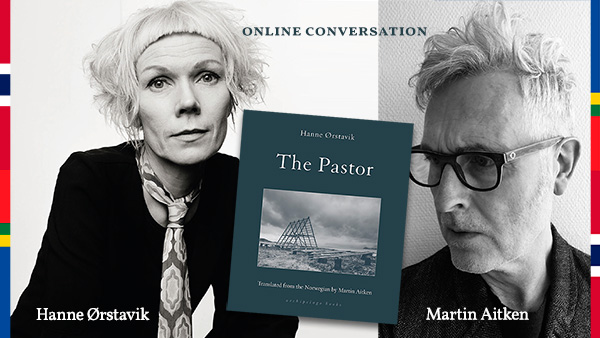 ONLINE | Thursday 2nd December at 19:00.
Join us online for a conversation about language, belonging, a sense of home and community – and how to convey that in translation, as Hanne Ørstavik and Martin Aitken talk about Hanne's in English recently published praised novel The Pastor (Presten), together with Hedda from the bookshop.
Give-Away! Join the livestream for a chance to win in a give-away! (Or catch the replay any time.)
» Watch on facebook
» Watch on youtube
Best Books of 2021 by Publisher's Weekly!

A woman named Liv leaves her seminary in Germany for a post at a church in northern Norway, the site of a Sami rebellion against Christian missionaries. Liv's reflections on that fraught history dovetail brilliantly with her responses to the conservative and sexist men she meets in the Church of Norway. Ørstavik's slow-burning narrative crescendoes as a potent feminist anthem.
"The unreliability of language may be a motif here, but Ørstavik is in full control — and Martin Aitken, his hand steady on the throttle, discerns her intentions with an acute ear . . . The qualities of The Pastor, like those of Love, deliver us to what is actual."
— Ron Slate, On the Seawall
HANNE ØRSTAVIK published the novel Cut in 1994 and embarked on a career that would make her one of the most remarkable and admired authors in Norwegian contemporary literature. Her literary breakthrough came three years later with the publication of Love (Kjærlighet), which in 2006 was voted the 6th best Norwegian book of the last 25 years by Dagbladet. Love was a finalist for the 2018 National Book Award for translated literature.
MARTIN AITKEN is the acclaimed translator of numerous novels from Danish and Norwegian, including works by Karl Ove Knausgaard, Peter Høeg, Jussi Adler-Olsen, and Pia Juul. In 2012, he was awarded the American-Scandinavian Foundation's Nadia Christensen Translation Prize, and in 2019 he was awarded the PEN Translation Prize for his translation of Love by Hanne Ørstavik.